Being Happy With Yourself After Separation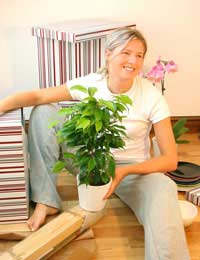 In among more practical issues, there's one thing that happens after separation that strikes you immediately, although you probably don't even consider it beforehand.
You're on your own. You're alone.
For some it might be the first time in years. For others, who married and moved in with a partner directly from living with their parents, it might be the first time ever. Whatever the situation, it can seem daunting and often quite scary. Even if you'd felt isolated in your relationship, this is entirely different. It's you and the four walls. The trick is in learning how to be happy with yourself.
The First Steps
Initially, being on your own can seem like heady freedom. To those who've felt trapped before, life can suddenly seem to open up. But for those who didn't want a relationship to end, being on their own can seem depressing and as confining as prison.
Some will use their time to go out and try and relive or regain their adolescence, having a wild time, while others will only emerge to go to work or run errands. The secret lies in finding a balance - a life - that lies in the middle, a place where you feel comfortable and content.
That doesn't mean that, to begin at least, you shouldn't allow yourself some indulgences, in either direction, although excesses are never a good idea. Don't lose track of your good friends, make the time to see them.
Keep up with the activities and interests you had before separation. Don't withdraw from the world. It's key not to feel sorry for yourself and slide into depression, but that's quite easy to do.
If you're outgoing by nature, then spending time alone can be frustrating. For introverts it can be pleasurable. However, whichever side of that fence is yours, it's something you're going to do, and it can be pleasurable. The old saying that you can't love someone else until you love yourself may be a cliché, but it's one because it's true.
You need to be happy with your own company and emotionally self-sufficient before you can really enter into another relationship, at least without it being dependent or destructive, neither of which are good.
Make your new place comfortable, whether it's a room or a whole house. It should reflect your personality, and the longer you're there, the more touches you should add until it feels like home, a place you want to be, rather than one that just contains you. Add to it regularly, whether it's pictures, knickknacks or furniture. The items don't have to be expensive, just things that please you.
Moving Ahead
Develop a social circle. It can be people from work, old friends, those you know with similar interests, even people from a group for separated and divorced people. Have three or four different circles of friends if possible.
That doesn't mean you need to be out all the time. You also need time alone. Slowly you'll become used to it, cooking for yourself (if you can't already, learn basic cooking, rather than existing on ready meals or takeaways; if nothing else it's a lot cheaper!), maybe reading more, or going for walks. It gives you a chance to relax and, even on a subconscious level, come to terms with your new situation.
It can take a while to establish the balance between social and alone time, but both are equally important. Becoming happy with yourself isn't something that happens overnight. Getting over a relationship is a journey, and it can easily take two years before you're fully on an even keel again and content with yourself and your life.
That's the time when you can move on and begin a new relationship with an open heart. But you may find that, once you're happy on your own, you feel no rush to do that.
You might also like...
@betty I've just recently separated from my husband...it has been two weeks. Just wanted you to know that I've been reading a lot on how to cope with separation and what you're going through is normal. Just keep your head high and remember to breathe. It's going to be okay. You're just experiencing a rollercoaster of emotions and grieving is one of them. You were in an extremely intimate relationship and you grieve the loss. You are not alone and you're just healing.
Fee
- 23-Mar-18 @ 5:04 PM
I've recently separated from my husband, this separation was my decision, I now look back at my relationship and realise that I had allowed him to dictate to and control me, I made a job out of making sure he was happy. I looked after his children, kept house and was towards the end was the main earner. He was never abusive, but this relationship was definitely more of a benefit to him than me at the end. I was very much his possession. I feel very guilty for leaving him, I had to leave and only have very limited contact with him as when I did I was sucked back in. I don't love him, and didn't love him for sometime before I left. Now I've settled in to my new life (3 months on) I've realised that there is a lot of healing to do, I'm suffering from mild depression, male friends have made it clear that I'm basically up for grabs for them, and I haven't felt this isolated for sometime. My main problem has been that I didn't believe I deserved to feel sad and grieve for the end of the relationship, because I was the one that left. I'm honestly struggling to know how to feel and what to do next.
Betty
- 20-Mar-18 @ 7:10 PM
Justme - Your Question:
I have been married for 34 years with two adult children and 2 grandchildren. My husband decided over a year ago to move and work in Brussels. His contract is for a minimum 3 years maximum 6 years. There was no discussion he just wanted to go. He is a workaholic and l rarely see him. I still love him but we constantly have rows as l am very low in his list of priorities. I feel very lonely and lost. The set up we have is not good for me but he is happy with it and he does not see what the problem is. How can l feel whole and happy again???
---
Our Response:
Focus on yourself - make a list of all the things that make you happy and start to make sure you indulge yourself. Make yourself a priority, do things you enjoy, get together with old friends and try to make new ones through clubs, activities, dog walking (if you have one etc). If you can get involved more in your grandchildren's lives do that too. Explain to your husband how you really feel (write it down if you become emotional when talking). If he sees you becoming more independent/happy and note pandering to his needs - seemingly not wanting him, he may stop and think about things. Perhaps even give him some suggestions as to how you see things panning out over the next few years? Even consider issuing an ultimatum? A marriage counsellor may help...if your husband won't attend with you, go alone - it might help you to decide which direction to take next.
RecentlySeparated
- 20-Feb-18 @ 12:38 PM
I have been married for 34 years with two adult children and 2 grandchildren. My husband decided over a year ago to move and work in Brussels. His contract is for a minimum 3 years maximum 6 years. There was no discussion he just wanted to go. He is a workaholic and l rarely see him. I still love him but we constantly have rows as l am very low in his list of priorities.I feel very lonely and lost. The set up we have is not good for me but he is happy with it and he does not see what the problem is. How can l feel whole and happy again???
Justme
- 15-Feb-18 @ 10:55 PM
I have been married 32 yrs two grown kids.Two yrs ago found out my husband was cheating.We separated have been living in different houses for two years.The first year I was a bit on the wild side, I needed to know a man desired me, after no intimacy for 5 yrs in my marriage.I found a counselor, she helped a bit for 6 months.I finally realized you have to learn to b on your own and love yourself first. He and I are friends respectful of each other we see each other once a week.We may stay separated in order for me to share my health insurance with him after retirement, we have a trust together and go over our investments once a month.We have seen an attorney and she agreed that we got along well enough to live this way. However, I don't feel like I can date without guilt let alone giving 100%.Not many men want to date a separated woman who is friends with her husband. I continue to have a gratitude journal, daily journal, meditate and take one day at a time.Life gets lonely ..........I don't have a great support system and don't have family so it's been extremely hard sometimes. Any suggestions? Good luck to us all......
I've been married almost 8 years, together for 13. This is my 2nd marriage. We have no kids together but I have 2 teenagers from my first. I now feel that I need to be alone for an indefinite period of time. I love and am in love with my husband so I know it's gotta be me looking for independence. Still unsure about what to do ??
lostnconfused
- 3-May-17 @ 3:44 PM
After 5 tough years of marriage, I asked my husband for the divorce. but he and both the families have refused. I cannot live with him anymore. It sucks! M completely lost. I'm thinking of leaving the city and moving to an anonymous place. Though I feel afraid of leaving alone, still want to do this. Is my decision, right?
My husband and i seperated 4 yrs ago, we hv 4 children together the last is 10, but he is still running my life as if we were together, he has a misetress which they are always together. The children bills are very high and he pays all d bills and thata y im finding it diff to leave. Please i want my life back. What can I do?
baby
- 5-Jun-16 @ 7:59 AM
God its hard. Ive moved out of the family home into a less desirable property. I miss it all. I feel desperately unhappy. Everyday brings some form of upset. I want my normal life back. I hope in time things get better....i have 2 children. Its so hard and lonely at times. I worry about the future. I would love to turn back the clock. I need to get through this.
Jen
- 11-Aug-14 @ 5:32 PM
@ Anne I would advise you to go and see a solicitor before you do anything, if your husband has a private pension you would almost certainly be entitled to some of it or he would have to give you a lump sum, he is also still liable for paying half of the outstanding mortgage and the selling costs would need to be taken into account before any settlement figure is agreed on.I know from experience that this must a very difficult time for you but I would strongly urge you to contact a solicitor asap. Good luck!
My husband of 42 years of marriage whom I loved dearly is going to live in Spain with a women who lives off gullible Englishmen.I am 69 and cannot find a way through the misery I am in.He is leaving me the house and the outstanding morgage and the cost of selling the family home.I was a mother to three children and have no pension.Is it better to give up half the house and divorce him or just separate and live off the house?
anne
- 17-Jul-13 @ 2:57 PM
Like reading about other people in the same situation was nearly floored when my husband of 23 years when down a different road instead of following this family but instead I dusted my self down moved back to my home town ,children enjoying a change of life style we have good days and bad days and I sometimes wonder when will the hurt and anger go away, the kids have coped better than me;;
josie
- 22-May-13 @ 8:56 PM
been split for nearly 2 years after finding out he cheated and had a child, still feeling it tried everything it's hard when you have a child by them and they just ask questions to. Just wondering when it will all end
charliemax
- 24-Sep-12 @ 9:32 AM
I've been on my own now for 10 months after the discovery of my husband's affair with a woman 20 years younger and after 36 years of marriage. It's very hard at times and self pity can be very destructive but things do get better and you have to learn to become your own best friend.
Mags
- 11-Jun-12 @ 3:42 PM
After a tough year my wife of 23 years has decided to leave with the children ... feel totally desolate at the moment but appreciate the hope in these words for the future. Thank you.