How Our Children Have Coped With Our Divorce: Case Study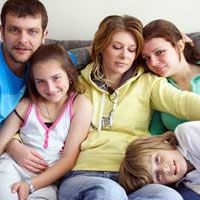 Bert and Jemma Caldwell are a very modern divorced couple. Against the odds they have managed to sail through the choppy waters of separation and arrive at a place that is amicable and friendly. Their three children, Tamsin, 11, Sol 8 and Lela 4 have all benefited from this approach.
The children live with Jemma for most of the time. "It seemed to make sense for one of us to look after them full-time. We didn't want to 'jobshare' them half and half because we felt it would be too disruptive." Jemma says. Bert nods "We discussed it carefully with the children, what would they prefer and it soon became clear that they wanted to stay in the family home with mummy."
Continuity
However life is made a lot easier for everyone because Bert lives in a flat in a neighbouring street. "I am able to pop in regularly and that gives the kids a sense of continuity." How does Jemma find that? "I'm fine with it. In fact it's great. Of course there are times when I feel like some privacy and space but on the whole it works really well. Bert is able to be a big part of our children's lives."
At one point Bert still had a key for the family home but when Jemma started a new relationship she decided it was time for some independence and Bert gave the key back.
Availability
It does mean that Bert is on hand to help out with homework, muck in at bath times or take the children out to the park to give Jemma some valuable me time. "The children don't really think of Bert as a divorced dad because he is always around for them."
The two older children have mobile phones and know that they can phone Bert at any time and he will pop round to see them. They also often pop round to his flat. The child custody arrangement is informal but Bert normally takes the children for one weekend in three. "It is a squeeze at my flat as it is only a two bedroom but that adds to the fun. It does feel important for me to physically have them to stay. I'm a rubbish cook but I miss mealtimes with them and so they become a big feature when the kids come to stay."
New lives
Bert and Jemma have found a way to get along. "It works well now that we both have new partners. We will always share the children though and that makes it worth working at us having a good relationship. It's the example that we're setting to Tamsin, Sol and Lela."
The children seem confident, stable and happy. "They know that they are loved by both of us and that makes all the difference. They know that we will always be there for them. Some friends have had very acrimonious divorces and it can't help but affect the kids when mummy and daddy are tearing each other apart."
The children do sometimes ask questions but this has become their norm. "They see that we are happy with other people and that we get along so they have nothing to worry about. We always go to school plays and events together if we can, so they know they don't have to choose between us and can always count on us. They are just normal little kids."
You might also like...