Life as a Single Parent: Case Study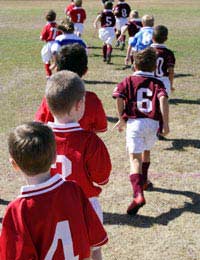 Jess Conroy has twin boys aged 8 and is bringing them up alone as a single parent. Their father has had nothing to do with their upbringing since they were three years old and never sees his sons. "It used to break my heart that the boys don't see their dad but now we've got used to it and we are a little unit."
Supporting the family
Their father doesn't pay child maintenance and Jess has never chased him up about it. Instead she went back to work following her divorce and works as a teaching assistant in a local secondary school. "It was tough going out to work when the boys were only three but it was important to me that I was able to support them." Fortunately Jess' mother lives nearby and she was able to look after the boys several days a week. The other two days they went to a local nursery.
"I want my boys to see my example as someone who is independent. I want them to grow up feeling that they can take on responsibilities too. I don't want them to be like their father."
Juggling responsibilities
Even now the boys are at school it is still difficult for Jess to juggle her responsibilities. She drives to work and drops the boys off at their primary before continuing to her secondary school. "It is the school the boys will go to when they are older, so that should make things a little easier." Mornings are always a rush and neither of her sons are ever ready on time.
Activities
Jess feels it is important for her boys to take part in social activities and both play for the local under-9s football team. "We turn out every Wednesday night for training and then there are matches most Saturdays." Jess stays to watch training and tries to offer all the encouragement that a father would. "Sometimes my father comes with us. Their grandfather is the biggest male role model in their lives and I do feel it is important for them to spend time with a man, seeing as they don't have a father."
Support
It can be quite a responsibility to be the sole breadwinner and to have to offer all the practical and emotional support that the boys need. Jess feels lucky that she can turn to her own parents for support and she has a close relationship with both of them. Now that the boys are at school her mother no longer needs to babysit during the day but regularly offers to do so in the evenings to allow Jess some time to herself. "It is nice to occasionally go out with friends or work colleagues and to get a chance to let my hair down." Jess is also doing a maths A-level at college as she wants to improve her qualifications and perhaps one day train as a teacher.
"I haven't been on a date since I got divorced. Friends tease me but it is simply not on my agenda. My priority is my boys and I don't feel ready for any kind of complication. I feel that we work well as a team just as we are."
You might also like...
im single mum of 3 a suffer from the loss of my 4 week old son who i had to take home to die in which i nursed him for 9 days and nights befor he passed way at 3 in morning in my arms nd as a result of that i dont go out the house struggle to speak and communicate and am now in rent areears and carnt afors to pay anda feel ready for a break down a dnt no were to get help
kaylee
- 24-Apr-17 @ 11:25 PM