Overcoming Your Dating Fears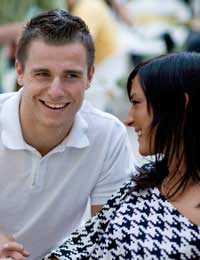 After being with one partner for a length of time, then on your own, the idea of seeing others can be daunting. Even if you're one who relishes the idea of freedom, dating can seem difficult. For some it can even be terrifying.
We can build it up in our minds like a mountain, one that can seem impossibly high. The fear of dating can be so big that we put it off, even when we're ready for it. After all, the longer you've been out of the game, the harder it can seem to resume. But there are ways to overcome those fears.
Things to Remember
It's a small consolation to know you're not the only one in the situation. That person you'd like to ask out might well feel exactly the same as you, or even worse. But you don't need the chat up lines. Those might be fine when you're younger, but older and wiser, you can have real conversations instead.
Everyone is scared of rejection. After being single, asking someone out and being turned down might seem like the end of the world. But it's not. It happens to everyone at some point. A lot of life is rejection, and you deal with that; simply get up and try again. The first couple of times can be tough, but it truly does get easier.
You might be scared of asking someone out, but that person might be equally scared they'll never be asked out again. In other words, we all have our fears, and they're often just variations on a very similar theme.
If you don't ask a person out, you'll never know if they'd say yes or no. That might seem like the safest course, but doesn't curiosity get the better of you, even a little bit? Go ahead, ask. As your mother probably told you, the worst they can say is "no," and you'll find that it's nowhere near as crushing as you'd imagined. Better yet, they might say "yes."
Don't Read too Much into a Date
What is a date, anyway? It's simply two people getting together to do something. You'd meet friends, you'd even suggest going out for a drink or whatever to a new friend. Think of a potential date as a new friend. Don't build the idea of a date into something more than it is.
The best thing to do is treat it – certainly in the initial stages – as a friendship. You don't need to rush at romance or sex. The less you make a big thing of the idea of going on a date, the easier it will be to ask someone.
Make it a casual suggestion, and something that seems innocuous, such as meeting for a coffee. The lighter it is, the better your chance of hearing someone say "yes."
Getting Used to the Idea
After the first acceptance, it can become a lot easier. Of course, you'll still find a lot of rejection, but having several simple little dates with a few people will help you overcome those fears.
Don't expect too much from any of these dates. In fact, the best way is not to expect anything from them except a pleasant hour or two in someone else's company. Don't even anticipate a parting kiss. Just let it be a friendly, pleasant time. If the other person wants to do it again, fine. If not, let that be fine too. Each little date is a learning experience, and with it, your confidence grows.
You might also like...