Should You Tell Your Ex You're Dating Again?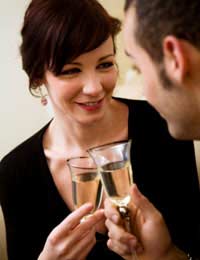 It can be tricky to decide whether or not you should tell your ex-partner when you start dating again, and deciding when to do so. Although there are no hard and fast rules about this, it certainly depends on what your relationship is like with your ex since you separated, and other details that define your situation. Look at the following scenarios to help you decide what's right for you.
Do You Want to be Kind?
It may sound like a strange question, but essentially it underpins your decision on whether or not you should tell your ex when you start dating again. If you split up in very difficult circumstances, or if you feel as though your ex treated you badly, you may not be especially concerned with being careful of your ex-partner's feelings. But if you split up on relatively good terms, or indeed even if you didn't but you do not want to 'sink to his level', perhaps telling your ex that you're dating again is the best plan.
Do You Have Children?
Assuming you are not keen for your kids to have a succession of new 'uncles' or 'aunties', it is unlikely that you will want your children to know about your new partner until you're pretty sure yourself.
If you have children, a good rule of thumb is that when you introduce your children to your new partner is around the same time that you tell your ex, particularly if your children are in regular contact with their 'absent parent'. This avoids your children feeling 'guilty' that they're keeping a secret, or that they have to choose between their mum and dad.
Do You Have Mutual Friends?
If you do have mutual friends, it would be a little cruel for your ex to find out that you're dating again through someone else, especially as it might put their friendship in an awkward position. If there is no chance that your ex would find out, you can have a little longer before you need to say anything.
Do You Both Live Locally?
If you, your new partner and your ex live relatively locally and there is a chance of bumping into each other, it would be courteous to inform them that you are now dating again.
How to Tell Your Ex You're Dating Again
So once you've decided that you need to tell your ex that you're dating again, you need to think about how you're going to do it. As long as you are not being cruel, telling your ex as soon as you think that he, or a mutual friend, might see you and your new partner together is a good idea. Sending an email is fine, although try to use a hotmail address rather than a work address if possible so they can read it in their own time. A text is not really appropriate, unless you feel you have to act quickly if you've been rumbled. The best way is a face to face chat or phone call. Say "I just want to tell you that I've started seeing someone," and then talk if appropriate, but don't be drawn into anything that makes you feel uncomfortable.
You might also like...
My partner if 8 years, who I gave 3 kids to. Left me for her childhood sweetheart. She says they just click & always have. As soon as she left, she started meeting with him. She stills to be friends with me & do stuff with the kids. She can't have her cake & eat it
Theguttedone
- 25-Sep-20 @ 5:25 AM
I've been seeing someone new and my ex doesn't know and he still has feelings for me. I feel bad telling him. How should I do it?
Kayla
- 10-Jan-20 @ 5:17 PM
I don't want my ex back but I feel sorry for him he always cry for and I've found someone new .I broke up with my ex because I don't love him any more but he is still missing me and that's why I don't wanna date again
Minam
- 11-Jul-19 @ 3:51 AM
If there is a paramour clause in the custody agreement (i.e. no overnights with a romantic partner), she can try to take it to court to demand enforcement, but it can be hard for anything to actually happen except your SO maybe getting slapped with contempt of court.(This doesn't apply if you and he are married.) She *always* has the right to take him back to court and try to get a modification of the custody agreement; his relationship with you can be used as ammunition in such a case. That's about the only legal options she has.Slaying his reputation with rumor and innuendo is always a possibility, though. This is something he needs to deal directly with her to resolve.It isn't any of her business what the son's bedroom at your place looks like - _as long as there is no reason to suspect abuse or neglect_.Maybe she has specific concerns that your SO can address and help her feel better about. I don't recommend getting defensive, raising voices, or aggressively defending yourselves to her - but if you can address her concerns calmly, and calmly but firmly point out that as the child is happy, healthy, and well cared for the interior of your home is not any of her business, then do so. Good luck.
Rural Mom AR
- 3-Mar-17 @ 7:48 PM
Hi. We're having trouble from my husband's ex partner. His 7 year old spends part of the week with us and his mother is demanding to see photos of the bedroom he sleeps in while he's with us. The mortgage is solely in my name and she's threatening to 'take it further' if we refuse. I'm trying to clarify if she has any right to this? Thanks.
Maggie
- 11-Feb-16 @ 3:11 PM