Starting Again After Separation: Case Study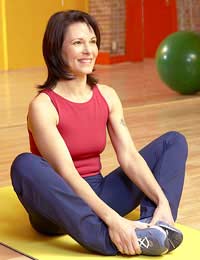 Hannah Medley didn't choose to be separated "It wasn't an amicable split" she says. In fact, her partner of fifteen years had an affair with an office colleague and decided to move out. "It was a bombshell, I had no warning. He just suddenly told me he wanted to move out and was gone within 24 hours." Hannah was left to pick up the pieces in the empty family home.
Disbelief
Her first reaction was one of disbelief. "I kept thinking he would come to his senses and come home but he didn't." Somehow Hannah continued on automatic pilot. "I went to my work every day but it was an out of body experience, I was numb." Friends rallied round her. "That has been the big secret, my friends, I don't know what I would have done without them."
Things were to get worse for Hannah when her partner refused to continue paying the mortgage on the family home. "I couldn't afford it on my own and so we were forced to sell up. It was a really difficult time for me." The stress began to take its toll on Hannah and she became ill and had to take time off work. "I wasn't coping very well, it was just all too much for me."
Turning her life around
It was her doctor's advice which began to turn her life around. "My GP advised me to start going to the gym as healthy exercise could help promote a more healthy way of thinking. I also needed to shed a few pounds."
Hannah was reluctant at first but joined her local gym with a friend. She began working out and also attended exercise classes in yoga, tai chi and boxcercise. "It was a hard slog at first but my friend and I kept each other going." Soon, Hannah became addicted to the exercise high. "I get a buzz from exercising and people began commenting on my improved appearance. I lost weight and had a healthy glow about me for the first time in months."
Even when her friend stopped attending so many classes Hannah has stuck with it. She has progressed from beginner's to intermediate classes and has made a whole set of new friends. She is even considering working towards an instructor's certificate in yoga and has attended weekend retreats and extra classes.
New-found confidence
Tackling the gym successfully brought Hannah a new-found confidence. She found a new place to live and set about doing it up. "It was my chance to put my own stamp on the place. I realised I had no-one else to answer to and for the first time that felt liberating."
It took time but gradually Hannah has come to enjoy her independence "I realise now that things weren't perfect between my partner and I. Maybe we just put up with each other for some of the time and maybe we both deserved better than that. Mind you, I still find it hard to forgive him for how he treated me but I've moved way past regretting it. Life is too short and there is too much to be getting on with."
You might also like...