Tips for Avoiding Difficult Questions About Your Break Up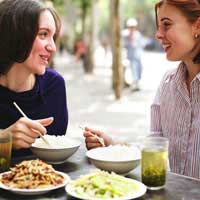 It's hard enough dealing with a break up without having to handle difficult comments from people you'd rather not deal with.
Rather than get flustered, upset or avoid social situations all together, it's worth coming up with a few replies that you feel comfortable with so that you are prepared for any situation.
Do bear in mind that most people are trying to be kind; they may say something that upsets you or you find yourself bristling to, but it is not often that is the intention. Of course, sadly, sometimes that is the intention – we all know of someone at work or that 'clumsy' auntie that manages to get under your skin with a look or a mean comment and you're never entirely sure if that wasn't actually the intention. So we'll have some suggestions for dealing with those comments too!
Kind Yet Misplaced Comments
These are the comments that you're most likely to hear frequently, so unless you plan to become a hermit, you'll need to learn to deal with them. It's not easy, especially as it's a time when you're more sensitive that normal anyway, but if you can try to keep your cool and not get defensive or burst into tears in the street, you'll feel stronger for it and more capable of dealing with it next time (and there will be a next time).
Remember that people are mainly bothered about their own lives, they're not actually all that bothered about you at all. But people do like a bit of a gossip, especially if they're dealing with their own issues so talking about yours takes the pressure of them for a moment or two.
So when people ask you an awkward question about your break up, it's usually for one of two reasons – either they want a little bit of gossip about someone else for a change or they are genuinely interested in your situation. Either way, you probably don't want to talk about it. Prepare yourself for all types of questions by reading these useful yet not too hard to say responses.
Difficult Questions – Easy Answers
So what do you actually say? Here are some common awkward questions and ideas for what to say in response that won't say too much and won't make you feel worse – but will stop those darned questions too!
"Are you dreading your first Christmas alone?" Regardless of whether you're wailing into your mulled wine or secretly looking forward to having the remote all to yourself, the first Christmas after a separation is bound to be difficult. Assuming you don't want to go into any great detail with the person asking you the question, a good response is, "I've got plenty to keep me busy."
"I never did like your husband – why didn't you split up sooner?" This question falls into the 'more than tactless' category so don't feel like you have to be nice, although you may feel better if you just 'rise above it' (don't you get bored of rising above it sometimes though?!) Try to keep you cool and either make a joke of it by saying, "Oh he spoke very highly of you!" or keep it neutral by saying, "It's not a decision you take lightly."
"Have either of you got someone new then?" This is just a nosey question, so you're welcome to point this out to the questioning party. If you're brave enough say, "Mind your own business!" – if you do it with a wide-eyed yet smiling expression you will hopefully embarrass them a little. If you're feeling less brave, try, "We're just dealing with separating at the moment." This doesn't exactly answer the question (and can be used in a variety of situations) but will deflect the question enough for you to change the subject.
"I bet you're finding it hard being single after being a couple for so long, aren't you?" Yet again, another gem designed to make you feel pretty rubbish – and you're probably feeling rough enough all ready. Don't feel like it's for you to 'keep things nice' when people are clearly suffering from foot-in-mouth disease. A good retort to try whenever someone makes you wonder whether or not they meant to put you down is 'Goodness that sounded really rude, but I'm sure you didn't mean it that way." It disarms them as either they did mean to be rude, in which case you've caught them out, or they didn't, in which case you've pointed out how they actually made you feel.
You might also like...