We Got Back Together After Trial Separation: Case Study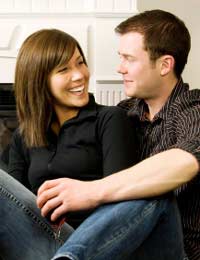 Even though many couples seemingly use trial separations as a way to soften the blow of splitting up, for some it can be a way to get a better relationship than before.
For Rebecca Thorpe, 42, from north London, her trial separation with husband of ten years Neil, 45, was certainly a very difficult time for them both, but it ended up being a very positive experience. She told us, "Neil and I had been having some issues for a while as we had very different ideas about some pretty fundamental stuff, like how to bring up our daughter and how to spend our money. But even more than that, we disagreed about Neil's work."
Successful Career
As a banker in the City, Neil had worked very hard to achieve a successful career that was very lucrative, but this caused problems between him and his wife. Rebecca continued, "Everyone saw us as the perfect couple because I had given up work as a lawyer when I had our daughter Elle seven years ago, and with Neil's salary and bonuses we were able to have a very nice lifestyle, with all the trappings money can bring you. I felt terrible for not being happier, but I hardly ever saw Neil and when I did he was exhausted and on his BlackBerry all the time. Even though I knew we wouldn't have the lifestyle without him working all those hours, it stopped being so important. I started thinking that I would rather go back to work and share some of the childcare, or for Neil to cut back his hours so we could do more things as a family, even though we would have less money."
Neil, however, was not prepared to consider this, particularly as the landscape of the City had changed following the global economic crisis and he was keen to do everything he could to make sure he was not made redundant. Rebecca felt that they could cut back their spending and make do with less, so the issue became a cyclical argument that got more and more heated.
Rebecca said, "After one particularly bad row I just said, 'that's it, I want a break' and I packed an overnight bag and went to my mum's. The next day I spoke to Neil and said that I didn't want this life any more and that I needed time to think about what I was going to do about it. Neil agreed to stay in a hotel nearby for a week and he then had a three-week trip to Tokyo, so we knew that we had a month apart. During that time, we had a couple of emails about practical stuff, and Neil spoke to Elle most nights."
Time to Think
She continued, "I gave myself time to think about what I wanted and how I wanted things to change, and I realised that I felt like Neil and I had moved too far away from what we used to be like, and our values, especially Neil's, had changed in a way that I didn't like. I didn't want Elle to be spoilt because her daddy felt guilty about working so much, or that she was getting a bit princess-y. I sent a long email to Neil to explain how I felt and said that we'd talk when he got back."
When Neil returned, he told Rebecca how much he'd missed her and that he'd thought about her email in a lot of detail. He realised how much he had changed, but he was confused about how to change when his job had a real culture for working very long hours. The couple continued to live apart for a couple more months. The situation changed when Neil was offered a generous redundancy package and he realised that he could start the small accountancy firm he had always wanted and step away from the City culture.
Rebecca concluded, "It was a real turning point for us, and I'm happy to say that Neil moved back in pretty soon afterwards. He's really different now – far more laid back and at home far more too! We don't have the same money as before, but he's doing really well with building up clients and the redundancy package has given us a good cushion. I wouldn't say everything is perfect, but I know that I really missed being apart from him and we both felt that we could give it another go – I'm glad we did."
You might also like...