What to Do About Your Debts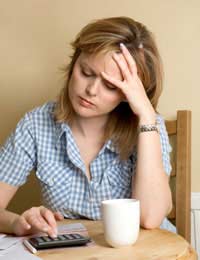 The biggest single contributor to debt in Britain is divorce. According to statistic, divorce and separation is a much bigger factor than bereavement, ill health, job loss or disability. Perhaps those most affected are the ones who, after a break up, become single parents.
However, there are ways of coping with debt, and also making sure, before the break up, that you don't become the victim of a partner who fails to pay bills.
Before The Break Up
If you know things are coming to an end - filing for divorce, for instance, or preparing to separate - you need to obtain a copy of your credit file. If you're married, many of your credit accounts will probably be held jointly, which means that you have a responsibility for paying them, even after divorce, no matter what's agreed.
You need to contact all your service providers and inform them in writing that if your spouse is having any work done, you are no longer legally responsible for the bills. That doesn't necessarily stop them coming to you for payment, but it's a level of protection, and a good solicitor can advice you further.
Before separating, you also need to sort out who's responsible for which debts, and have it in writing. Also, open your own accounts and make sure you actually qualify for credit (which can be a problem for those with low incomes). Essentially, at the legal date of a separation or divorce you're no longer responsible for the other party's debts, but the more arrangements you both have in place beforehand, the better. The more amicable the parting, the easier it becomes, too.
After The Break Up
Don't assume that, just because you're no longer together, everything is fine. If your ex defaults on payments from an old joint credit account, you could become responsible, and if you can't pay, you might have to take the drastic action of taking out an Individual Voluntary Agreement, and the lack of payments will be reflected in your own credit file.
Once you're on your own, the temptation can be to treat yourself to a holiday or a shopping spree, all on credit. In a word, don't. It might be great fun and wonderful therapy, but that amount still has to be paid back.
You'll find that you're suddenly having to manage on less money, so the more you can pare back your spending, the better. Getting a new home, whether rented or purchased, is expensive, and that needs to be your priority. It's sobering to learn that only 8% of those who'd separated or divorced had managed to control their finances, and 30% - nearly one-third - felt they needed debt counselling to help them.
Getting Help
If you feel you need advice with debt issues, there are agencies available to give help. The Citizens' Advice Bureau is a good place to begin, and if they can't help directly, they'll be able to point you in the right direction. Divorce Aid is a website offering all kinds of help to those now on their own, and the UK Insolvency Helpline is another good resource if the stress of owning money is affecting your life.
Debt can be a burdensome and stressful problem. The good news is that it's one that can be overcome.
You might also like...