Quiz: How Much Do You Know About Your Finances?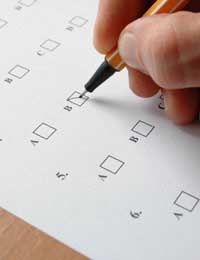 Money makes the world go round but if your partner has been dealing with the finances, then you may not know how it turns. When you are facing separation you need to know how you stand financially. From joint investments such as mortgages, to debts, savings and budgeting – you need to understand them. Take our quiz to find out how much you know about your finances.
Is your mortgage jointly in you and your partner's names?
a) Yes
b) I've been paying him rent, does that count?
c) I have no idea, maybe
Do you know how much debt you have?
a) Yes, I know exactly how much we owe and the interest rates
b) Vaguely. I try not to think about it
c) No, I just give my partner money each month
Do you know your monthly outgoings?
a) I keep a record of all our bills, expenses and mortgage payments
b) I couldn't tell you exactly but we always manage to pay them
c) What do you mean by outgoings?
Are your savings joint with your partner?
a) Some, but I also kept my own
b) Yes, I think we have some somewhere
c) He always saved but I didn't
Do you have a pension?
a) Yes, I pay into a private pension each month
b) My employer takes money from me each month, does that count?
c) No, I'm way too young for a pension!
Mostly As
Well done, you have a good understanding of your finances, how much you owe and your monthly outgoings. You have been saving which will help you be independent and are thinking about your future. Remember that when you separate you will be living on one income though so you will need to readjust and reassess your finances.
Mostly Bs
You have been managing fine financially but you don't have a great understanding of exactly why. You need to find out what is in your name and what it is in your partner's name to see what you are entitled to. Now you are going to be living alone you need to take a better grip of your finances.
Mostly Cs
As a responsible adult you need to take control of your finances. Your partner has been in charge of them up until now, but it is now your turn. Learn the basics of budgeting so you can manage what is going in and out. Start saving so you have a back up and talk to a lawyer to make sure you get everything your are entitled to form the separation.
Money can be an awkward subject to talk about but it is essential that you understand your finances and can manage them on your own. If accounts have been in your joint names then you need to split them fairly and then learn to look after your part. Be sure you know hoe much money you have, how much money is going out and put a bit aside for the future.
You might also like...