Life as a Working Single Parent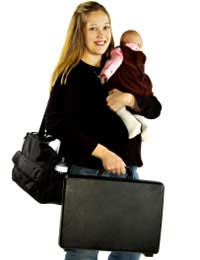 It probably isn't how you expected your life to end up but if life as a working single parent is your new reality, then you need to do the best you can. Juggling work and children is a constant battle and you need to take help where you can to make your life a little bit easier.
Claim Benefits
As a working single parent there are benefits available to you. Don't feel that you shouldn't take these for any reason – they are there to help. Firstly, make sure that you are receiving the right amount of child support from your ex. Then, look into childcare vouchers, tax credits and other benefits as they can all make a big difference.
Drop The Guilt
Any working parent feels guilty about leaving their children. Carrying this guilt around with you won't do you or your children any good. Instead of worrying about being away from your children see yourself as setting a good example and being a role model. Concentrate on quality not quantity and make sure the time you do spend with them is fun and memorable.
Flexible Working
Having a job that is flexible or can fit in with your children can make a huge difference. Ask your employer about flexi-time or working from home. Alternatively you may consider setting up your own business or taking on a couple of part time jobs to fit into your schedule.
Ask For Help
There is nothing wrong with asking for help. It does not make you a bad parent – in fact it makes you a better one. Talk to your friends and family and see if you can come to an any arrangement. Struggling along on your own will only wear you down and have a negative impact on your children.
Work With Your Ex
You may not be living with your ex any more but as the parent of your child you should still try to work together. See if there is a way they can help look after your child when you are working or arrange alternative childcare. However you feel about each other, you need to put your children first.
Find time for yourself
It may seem impossible, but it is still important to find some time for yourself. If you are constantly stressed and unhappy it will pass on to your children. Arrange a baby sitter once a month so you can go out with your friends or send the kids on a play date so you can go to the gym for an hour.
There never seems to be enough hours in the day when you are a working single parent and it is a constant juggling act. Make sure you claim all the benefits and get all the help that you can. A flexible job will make s huge difference, as will support from your friends and family. Ideally, work together with your ex to look after the kids and try to find a little bit of 'me time' to stop you going crazy.
You might also like...