Buy Out The Mortgage From Your Ex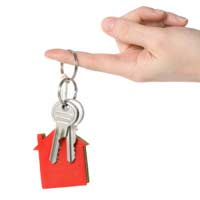 The house you buy jointly with your partner is likely to be the biggest investment you make in your life. That means it can also become your biggest asset. But what happens if the two of you split up and you want to buy out your ex and keep the house?
There are a number of factors involved, not the least of which, with the credit crunch so tight, is the ability to actually obtain a mortgage, which is likely to be a major concern for the foreseeable future. Putting that aside, however, there are still several things to consider.
Equity And Your Partner
The longer you own your house and keep up mortgage repayments, the greater the equity you have in your house – the more of it you actually own. But equity can work both for you and against you. It's not necessarily a 50-50 split between you and your ex. If one of you put a lot more money into home improvements, for instance, that person will have a greater amount of equity, and that has to be taken into consideration in the buyout price.
An Amicable Agreement For Buying Out Your Partner
Obviously, the best and simplest solution is if you can reach a calm understanding between the two of you about one buying out the other. There's a strong chance that one party won't want to stay in the house, anyway.
But however amicable things are, when it comes to buying out a partner, everything needs to be legally signed and sealed, which means you'll need to take legal advice and have things handled by a solicitor.
No matter how it's resolved, whether agreeably or in court, the partner who ends up with the house will need to change the deeds, making sure the other partner isn't listed as the survivor on those deeds.
When Children Are Involved In Buying Out A Partner
If a couple has children and the female wants to stay in the house, buying the mortgage out from her partner, the situation can become a lot more complex, especially if her income means she's unlikely to obtain a mortgage on her own income.
In that situation, as long as both parties are agreeable, then her partner accepts a lower equity in the house, offsetting that value against the maintenance payments he would have to make. This gives the woman a much larger stake, lessening the amount she'd need in a mortgage and making it more feasible. However, this needs the full agreement of both parties, and all arrangements should be made through a solicitor.
Where There's No Agreement About Buying Out A Partner
At times it can be impossible to come to an agreement between the two parties about buying out a partner. In that instance it will end up in court, which has the power to decide for one partner or the other. However, and this is vital, it can't make that decision without the consent of the mortgage lender. So, if the lender believes the new owner wouldn't be able to keep up repayments, it might refuse the arrangement, and the same might well apply if the mortgage is in arrears. In that case, the court's hands are tied, and the joint ownership remains in place, leaving both partners responsible, which means selling the house can be the only course.
You might also like...
We have been married 31 years and husband is trying to force sale of jointly owned property. £15,000 remains on mortgage and my daughter, her fiancée and one year old grandaughter live with me. I brought up four children and also worked part time throughout the marriage so contributed massively even though he paid the mortgage but am not currently working.says it will be split 50/50, can he sell without my permission or will he have to go through the court?
Llarawen
- 27-Nov-19 @ 6:57 AM
Ive brought a house 5 months ago with my partner and now shes split up with me (for no reason) ive no savings and i cant afford to buy her out, what are my options, shes offering to buy me out at 3k loss to what i have put into the property, but it seems if we sell id lose about 7k to what ive put in. thanks.
kieran
- 28-Oct-19 @ 11:31 AM
Hi. Me and my partner have a mortgage last 2017. He wants to sell the property but i objected. I want to live in this house. Is it possible for me to pay him how much i dont know? For me to stay and live in this house we bought.
Marites Quitevis
- 9-Sep-19 @ 6:41 PM
Me and my ex partner (not married) own a house as tenants in common. He has put 80% of the deposit and I have put 20%. We have been paying mortgage 50/50 for the last 2 years and have gained equity of 65K of the mortgage (money lended- how much it as payed in). He wants to buy my share of the house but I am not sure how much I should request. Since the deposit in total was 73 K and the house (406k) has not increased in value, he says we are at a loss and all he needs to give me to buy my share is my deposit back (13k). I need to know if this is correct as it does not seem a fair trade for my 20% ownership of the house. Am I not also entitled to 20% *(or 50% if I payed half of mortgage for 2 years) of the equity gained? Even it is smaller than the deposit put in?I just need someone to tell me how I calculate how much my 20% share of the house is worth
SouM
- 10-Aug-19 @ 4:58 PM
Hi - My wife and I have been separated 15 years. I now want to buy a house of my own, but there is still 40,000 to pay on the previous mortgage. She has been paying itand can afford to pay it, but the bank won't let her take my name off ( I don't want any equity at all, I would just rather she had the house)... Any suggestions welcome
Ben
- 25-Nov-18 @ 7:02 PM
I have moved out of my jointly ownedproperty and me and my husbandhave agreed he buys me out. Divorceproceedings have begun. Do we have to wait 56 daysbefore he can get the remortgage ? With regards Julie Cartwright
Jules
- 24-Nov-17 @ 9:13 PM
My husband n i have separated he wants to buy me out but can't afford to at the moment. I'm in the family home at present but want to move interstate . i don't want to leave without the legalities done n filed with the courts. If we agreed on a year for him to raise the buyout price. What are our individual financial responsibilities in that year. He will stay in the house. How will it affect the buyout price. Thank you Michelle
Shell
- 20-Feb-17 @ 2:27 PM