Dealing With Negative Comments After Separating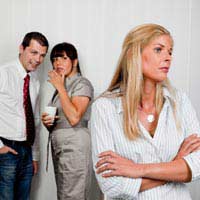 Although we'd prefer to think that everyone you come into contact with after your separation will be helpful, supportive and totally positive, the truth is that you are likely to have to deal with some less than kind comments.
It might be because people don't know what to say and they just blurt out the first thing that comes into their head or that they're actually trying to upset you. It's just as likely that these people are dealing with their own relationship issues and find it easier to say something tactless to you than address their problems.
Regardless of the motivation and the social ineptitude of the person that's made a negative comment to you regarding your separation, you need to be able to handle it in a way that allows you to keep your head held high.
Negative Comments about Your Ex
You may be more than happy to rant and rage about your ex (although it's probably more likely to help you move on if you don't!) but that doesn't mean you want other people taking pot shots at them. If you find that someone is saying things about your ex-partner that are very critical, personal or judgemental, try saying that you are trying to keep as positive as possible and you'd really appreciate their help.
Gossip & Rumours
Whether we admit it or not, the vast majority of us love a good gossip, especially when it's about someone else. So don't be surprised when people talk about your 'news'. That doesn't mean it's nice though, especially when people go silent when you come into the room, or if people who you would have chatted with in the supermarket before the split now seem captivated by the baked beans instead. If you catch someone's eye that you know has been gossiping about you, the best way to deal with it is to disarm them. Don't go all meek and scuttle past – say that you're aware they know about the change in your circumstances and that you're finding it hard enough to deal with without having people make it more difficult by gossiping.
Thinly Veiled Negative Comments
These types of negative comments can be the hardest to deal with as the perpetrator will happily make you feel like it's all in your mind and they are just trying to help. As the saying goes, regardless of the words people use, you remember how they make you feel. Keep this in your mind as you say something that does not let them carry on. Try 'I appreciate you are just trying to help, but your comments are actually making me feel worse.' If they carry on, you may need to try the more direct approach with, 'what exactly do you mean by that?'
Obvious Negative Comments
Some people are just bitter and cruel. You do not need to add their hang ups to your already difficult chapter, so these people are best avoided, at least until you are feeling strong. If you cannot avoid them, try the classic technique of repeating back to them what they have just said to you in question form until they realise what they are doing. It may take a while and they may never realise what they're doing, but at least this technique allows you to 'bounce back' much of the hurt. It goes like this, 'I'm not surprised X left you', 'oh, you're not surprised X left me?', or, 'I always knew you'd split up', 'oh, you always knew we'd split up?' Try it, it's better than just taking the comments and crying when you get home.
You might also like...