Family Mediation After Separation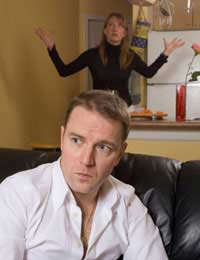 If you and your partner are separating but cannot agree on how to sort out your debts, assets, property or child custody you may want to explore family mediation. This is a tool which will help you to reach an amicable compromise without the challenges, expense and formality of going to court.
What is family mediation?
Family mediation aims to resolve problems and difficulties between family members by negotiating a compromise that suits everyone. In the case of a separation it can consider a whole host of practical problems and disputes which may arise including everything from who pays the mortgage to child custody rights. It does not aim to reunite separating partners and does not provide emotional support or counselling.
How does it work?
A trained mediator will work with you to ensure that both voices are heard. The mediator doesn't take sides but is there to see that any decisions made are fair and agreed by both sides. The mediator will spend time with each party to hear their side of the story and will tease out all of the details of the situation. They will identify the key issues and also what each person wants to achieve.
The mediator will encourage both parties to get together to negotiate possible solutions. By and large they will let individuals speak for themselves and promote healthy discussions. The mediator will remain neutral at all times and will ensure that meetings are held in a safe, confidential and mutually respectful manner. They will help to diffuse tensions between each party and avoid unhelpful arguments or accusations. This is where a mediator can be especially helpful as they can keep discussions on track by staying objective and bringing people back to the facts.
In some cases the mediator may make practical suggestions as to how compromises could be made between each party.
Is it a legal process?
Mediators can advise on the law but are not usually qualified lawyers. They can give information but will direct you to a solicitor for definitive legal advice – if for example you decide that you would like to set up a deed of separation. Mediators often work closely with lawyers and may be able to recommend one if you do not have a solicitor already.
Mediation in itself is not legally binding. It is dispute resolution and depends on trust and goodwill between both parties for it to succeed. It is about the application of common sense and hopes to defuse tensions between a separating couple without recourse to the courts. In the end both parties have to agree to the outcome in order for the process to work. Mediation encourages both parties to take ownership of their decision. It is possible that you may want to take your agreement to court and get a legally enforceable court order or you may want to consider drawing up a formal deed of separation.
Can children be involved?
Some mediators are trained to involve children in the mediation process. This is especially appropriate when you are negotiating child support and child custody. It can be helpful for children to be allowed to express their wishes. A trained mediator can support them to be honest about their feelings and the custody outcome that they would prefer.
You might also like...