Getting Over Your Ex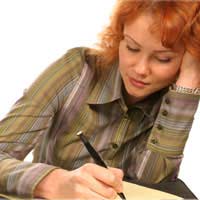 When you've been with someone for a long time, the feelings you held for them don't vanish overnight. Even if you'd grown apart quite a while before separating, there's an attachment that builds up. It takes time to get over your ex. Some people never completely manage it. But there are things you can do to help the process.
Look At The Past
Things went wrong. That's obvious, or you'd never have split up. Go over the past and examine what went wrong. Think about why you broke up. It might not be your fault at all, but try to be clear and objective in your assessment.
It's fine to hate at first, a perfectly natural emotional reaction, but as you take time to examine the relationship, it should fade – it has to if you're going to move on. You'll think about your ex, wonder what they're doing, but let that fade gradually. You may even hate yourself for a while, but you need to let that pass very quickly.
Even if you've agreed to be friends, and truly want that to happen, you still initially need distance, both emotional and physical. Don't have any contact for a while, give yourself a chance to establish a life of your own. You both need the space.
In almost all instances there will have been good times in the relationship. Don't be afraid to remember them. However, while you enjoy those, don't let them become fantasies of getting back together. Accept what's happened. Find the good things in the past, but determine to find even more good things in the future.
Writing can be good therapy. Put your feelings on paper, with total honesty (after all, the only person who'll see it is you). Simply getting them out of your head can make you feel more accepting of the situation and able to look ahead instead of backwards.
You might feel you don't want to constantly unburden yourself to friends and family, but they'll listen if they love you. Everyone has had a relationship end at one time or another, and a good support network, especially in the early days, can be invaluable.
Look Ahead
It could be you've let your place go as you wallow a little (and wallowing is perfectly acceptable). Clean it up, give it a spring clean. It takes work, but you'll feel better after it. The same applies to a new hairstyle or even a little retail therapy, they're all great boosts to the spirit. They're signals that you're ready to move on.
Be positive about the new possibilities in your life. Now you're free, you can do anything you like, so enjoy that. Indulge your interests, especially if they've lain fallow for several years during your relationship.
You also need time to yourself; that's important. You can't be rushing around doing things every minute. That's simply distraction. Make sure you keep time for simple relaxation and reflection, too.
Exercise is another way to feel good about yourself. It doesn't matter whether you choose to go to the gym, jog, or simply go out for walks regularly, you'll end up improved. It's a way to burn off anger and bad feelings and help remake your image of yourself.
Use all these techniques and the feelings for you ex will fade gradually.
You might also like...