Getting Support From Your Friends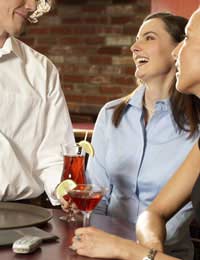 After a break up you'll find that you need your friends more than ever. They can be a source of solace and understanding, people whom you can talk to about both the past and the future.
Good friends will be there all the way through your journey, from the dark times and after you're on an even keel again, and still around when you find a good new relationship.
Whose Friends Are They?
One thing you'll inevitably find after a break up is that friends will take sides. Some people you thought you could rely on with have little to do with you any more, and it can prove to be quite a shock, not only to your social network, but also to your confidence.
But you may also find that a few you weren't close to before can emerge and steadfast, reliable confidants, always available when you need them, and pure treasures for the future.
It might come as a surprise to you, since the relationship that ended can seem central to your world, but friends might be reluctant to raise the topic, for fear of hurting you, when, of course, it's exactly what you need to discuss. In the beginning, at least, encourage them to talk about it.
The Value Of Friends
After a while, it's you who might be reluctant to discuss your old relationship, for fear of becoming boring and scaring your friends away. It's an understandable fear, especially if it seems like the only topic of conversation that you have, but true friends will accept, listen and advise. They'll have been there themselves, and know what you're feeling. The truest friends will be those you can call at 2 am, when you can't sleep.
You shouldn't be afraid to ask for the advice of friends, either. It can be valuable. While you're inside the problem, they can view it more objectively, and often see things you don't.
There may be times, especially in the early days, when you simply want to shut yourself away from everyone and feel miserable. That might be fine occasionally, but don't do it often. Instead, call your friends, invite them over, and use the occasion to talk. Even if it starts out as a rant, the odds are that it will move on to other, lighter topics, and by the end of the evening you'll be feeling much, much better.
Being A Friend
Just as you need your friends there for you, remember that you also have to be there for them. If one of them is going through bad times, you need to be available and prepared to listen, just as they are with you. It's the very core of friendship, but it means you have to make the effort, even if you don't feel like it.
Good, deep friendships last longer than many relationships – some go from childhood to the grave. Value them, and even when you're hurting, remember that you need to be a friend, too.
Later
When you're on the other side of things, with the hurt behind you, you'll have a real appreciation of the friends who've stood by you. Even when you finally enter a new relationship, make plenty of time for them. Hopefully you'll never need them in quite the same way again – but you'll always need your friends.
You might also like...