Relying on Your Family for Support Following a Separation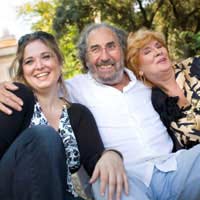 When a break up happens, we turn to our friends, but we also instinctively turn to our families. It's a natural reaction to look to family. We know and trust them, and believe they'll be on our side, no matter what the circumstances. After all, they nurtured us when we were young, and it's perfectly normal to seek a place of emotional shelter when we're hurt.
The Family as a Resource
Although family can mean aunts and uncles and more extended relations, the ones we usually turn to first are the closest – parents, brothers and sisters. They know us best, and in most cases are the ones emotionally nearest, most willing to understand. It's a bond literally built from birth and one that usually can't be broken.
A few nights staying with your parents after a break up can be beneficial. You'll be carefully looked after, and, for most of us, whatever you want to say will be accepted without question, with anger spent on your behalf to your ex.
If you've been forced to leave your home, staying with your parents can make a good temporary base before deciding on your next move. It's secure, although what seemed good as a child might not be as ideal when you're grown.
If they're close emotionally, siblings can be good sounding boards and people to whom you can vent your rage and frustration, as well as talk to very candidly. Again, they'll be on your side, rather than your ex, and knowing that can help a great deal, especially if you end up losing some trusted friends in the break up.
Material Help
It might be that, in the aftermath, you need financial and material help. The first people to turn to are family. If they can help, they will. It might be money, it might be furniture for a new flat or house, it might be the loan of a car, but knowing they're there can bring plenty of comfort.
If you do borrow money, however, pay it back as soon as you can and wipe the slate clean. They might suggest you treat it as a gift, but don't; it's better for everyone if it's returned when possible. Unless you come from a very rich family, their savings are limited. After all, another family member might need it in time – or something may happen and you might need it again.
Family members might well have friends or contacts who can help you find a new place to live if necessary, and the lofts and sheds of those near to you can provide furniture. It might not be the best or most fashionable, but for a start, it can give you what you need.
Long-Term Emotional Support
One thing about families – unless you consciously reject them, they won't go away. Even if you turn your back on them, the family is one place where you can always return in time. Families are for life.
In almost every case, your family will always be there for you, ready to listen and to help in whatever way they can. Remember they'll be there when you need them, and be grateful.
You might also like...