Dating Again if You Have Children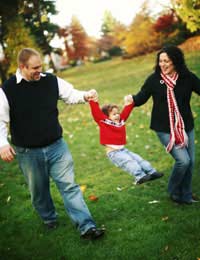 Children change everything. It doesn't matter whether you're married or single, divorced or separated, after kids nothing can be the same again. That's especially true if you're a single parent, or at least the one with primary care for the children. More than any other single thing, they rule your life.
That includes your social life. In order to be able to do anything, you need to organise a babysitter, or wait until your ex has the kids, making it into a kind of juggling act. But the simple fact, as all parents will tell you, is that the children come first. Their welfare, and looking after them, is more important than anything else.
But what happens when you're divorced or separated (or even single) and start dating? How do you handle that? Even then, the golden rule remains that the children always come first, and always must – any potential partner must not only understand and accept that, but also encourage it.
Finding a Date
Being a parent shouldn't affect the kind of person you date, although you'll probably find yourself steering clear of those who don't like children. It does, however, limit when you can see someone, or when you can go out. That takes a lot more planning, whether it's to arrange for a babysitter (which can be a friend or even your parents) or to set a date for a weekend when your ex has the kids. Spontaneity suffers, but that's simply the nature of things for parents.
One thing common to many divorced parents is that they don't invite their dates home, keeping them separate from the place where they have their kids (of course, there are also those who don't admit they have children, thinking it will scare off potential partners, but they're few and far between. It's not a good idea to lie about it, since the truth will come out eventually). In the early days, at least, that's a wise practice. Keep casual dates apart from the rest of your life. Enjoy them, by all means, but keep that fence tall.
Even when you begin seeing someone regularly you'll probably still want that separation, at least until you're convinced the relationship will last a while.
Introducing Someone To Your Children
Kids are smarter and more intuitive than we often give them credit for being. When you bring someone of the opposite sex home, they'll probably be able to guess it's a boyfriend or girlfriend, even if you say the person is simply a "friend." That's fine, let them think what they like, but keep insisting the person is a friend.
By the time you make that introduction, however, you should have been dating for a little while, long enough to feel certain you really want to let that person fully into your life – after all, you're going to have them meet the thing that's most precious to you.
It's important that you don't introduce many potential partners to your children, in large point to avoid confusion – is it really necessary for your kids to know a lot of the people you date? Having someone meet your children should mean the relationship has become something special. In fact, prior to an introduction you should discourage them from simply visiting you at home.
Keep the first few meetings light. Involve your child for a little while, but only after they're used to the other person being around should you all do things together. Make the progression natural and unforced.
What You Should & Shouldn't Do
Always be around when the other person is with your children. Never leave them alone for more than a couple of minutes. This is for the protection of your children. You might think you know the other person, but in reality you don't. It's safer not to trust for a while, however much you want to, than to be sorry later. In much the same way, don't let them go out together without you, even if the only motive is "to give you a break." Only after the other person has been around your kids for a few months, with you there, and developed a trust and bond has grown.
You might also like...
I am dating a man who has a 13 year old daughter. He ex told him he should not be dating because she is afraid it will hurt his daughter. He is not the primary Care giver and only has her every second weekend. I am not sure how our dating could hurt her and I am wondering if anyone else has had this issue and how they handled it.
Cheri
- 17-Oct-17 @ 8:41 PM