Getting Back Into Dating And New Relationships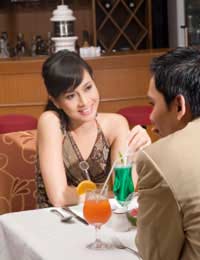 There are, of course, no set rules about dating and relationships once you're separated or divorced (although it's worth bearing in mind that if you're married and separated, then you're technically still married).
Many will need time to heal from the relationship that's just ended, while others will be glad to plunge straight back into the dating scene. However, it's definitely best not to try and push yourself back into it just because others expect it and suggest it. Do it when you're ready, not before.
Relationships
Relationships are always best when you go into them as a whole person, not someone still hurting or healing. All that makes you is much needier, and probably less sure of what you really want from the relationship. Being on the rebound is never comfortable, either for you or the other party. In the same way, you'd be better off steering clear of a relationship with someone who's on the rebound.
Don't expect too much from a relationship. Although you've come out of something committed – even if it didn't work out – remember that most relationships don't last or turn into marriage. However much you feel for someone doesn't guarantee a relationship that will endure.
Nor should you assume that just because you've dated someone three or four times that it will develop into a grand romance. Again, most don't go that way, so simply enjoy them for what they are.
Meeting People
There are so many ways of meeting people, and none is better than any other, or is more likely to bring success. It's simply whatever feels most comfortable to you. Some won't be happy putting themselves on display on a dating site while others won't give it a second thought, for instance.
Dating should be fun for both people. If it seems like a chore, then obviously something is wrong. It's meant to be a pleasure, not drudgery. If you date three or four different people and you're not enjoying yourself with any of them, it's probably time for a re-think – you may not be ready to date yet.
But it's perfectly fine not to date, too. Although it can be thought of as more socially acceptable to have a date or be half of a couple, the truth is that being single and content alone is great, too. The happier you are on your own, the happier you can be when you finally meet someone.
Not should you expect to date everyone you meet. In some cases it's simply not appropriate – in a professional setting, for example – but also remember that not everyone will be attracted to you. That's no reflection on you; it's just the way of the world.
When It Gets Serious
Eventually you're likely to meet someone and start a relationship. Again, there are no set rules for the way things should progress, but you'll both be doing yourselves a favour if you let it all develop slowly.
Communication is vital. If the relationship is good and strong, you should be able to talk about anything, although raising the courage to discuss some things, especially feelings, can be hard, especially the first few times.
But persist and it will become easier. In the long run, for things to work well, make it work. Don't take offence if the other person doesn't like something you do. Instead, try to change it. Even if that doesn't happen overnight, they'll notice and appreciate the effort.
You might also like...
@Skinnie. Thanks for sharing this, we hope you soon get back on your feet and that getting back into dating helps you do this.
RecentlySeparated
- 10-Nov-14 @ 12:46 PM
I have been separated from my husband for exactly a year now. I was married to him for 16 years no children. It's been one hell of a marriage seemed everyone was against us both from the start. That's when he started up his own business n began to spend a lot of time away from home, drinking n socialising whilst I worked full time n kept him going n looked after his elderly mother. His aim in life was to succeed. I never stood in his way. I always cared for him n acted like a responsible wife. His mother never liked me from day one. She was quite mean n vindictive towards me at times. We were never allowed a married life as a couple. He was the youngest of 5 siblings n he took on the responsibly of his mother. He never supported me when it came to her ways. Last year I discovered he was with a woman nearly have his age. I was devastated as I loved him dearly. I'm still trying to come to terms with what has happened.
Skinnie
- 7-Nov-14 @ 8:56 PM