Quiz: Are You Ready to Date Again?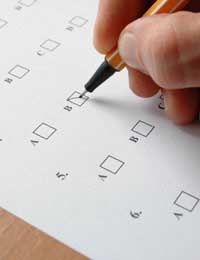 When you come out of a relationship it can be an emotional rollercoaster ride. Before you can think about moving on you need to deal with your feelings but once you have reached a place of acceptance it can still be a bit scary to get out on the dating scene. Having been away from it for a while you will probably suffer from a lack of confidence and be unsure how to meet new people or what to say to them.
Take our quiz to find out if you are ready to dip your toe in and test how deep the water is.
How do you feel about your ex?
a. I still love them
b. I am angry at the way she/he has treated me and feel very bitter towards her/him
c. I respect her/him but realise we were just never meant to be
How have you dealt with the break up?
a. I see it as a temporary thing – I'm sure we'll get back together
b. My emotions are up and down and all over the place
c. It has been a rocky ride but I have come to accept it
What do you hope to gain from dating?
a. To get back at my ex and show them what they're missing
b. To make me feel better about myself
c. To meet someone who I can have some fun and friendship with
What are you looking for in a new date?
a. Someone hot, young and sexy
b. I'll take what I can get
c. Someone with common interests and a sense of humour
Where do you see yourself in a year's time?
a. Back with my ex
b. Enjoying my freedom with a string of one night stands
c. In a new relationship enjoying those early stages
Mostly As
You are looking at dating as a way to get back at your ex. Parading other people in front of them is not going to make them fall back in love with you and you will only cause more pain for yourself. If you seriously want to get back with your ex then try to talk to them maturely about your feelings.
Mostly Bs
You are not ready to start dating yet. First of all you need to work through your emotions on your own and not see dating as a quick fix. Until you are happy and confident in yourself then no new relationship is going to stand a chance of working.
Mostly Cs
Congratulations, you have reached a place where you are ready to date again. After the emotional rollercoaster ride you are ready to move on with your life and look for a new partner to share it with. Be realistic about your expectations and enjoy the experience.
Starting to date again is never easy but as long as you are in the right state of mind, it can be a very positive step. You need to spend time alone, dealing with your emotions before you can be ready to let someone else into your life.
You might also like...
Wife left 16 months ago after 27 years and youngest of 3 kids was 19. She moved it seemed overnight 60 miles away with an old boyfrienf from 34 years ago. Swears they are not together but just roommates. Shehas been emotionally unavailable the entire time except a few weeks here and there. I met a lady 6 months ago I saw due to work 3 times per week. This week we started spending time together. I feel guilty or like I am blowing a chance to ever get back together with my separated wife. This new lady is so sweet. She is a good person and knows the situation. I feel like I have been waiting for a woman to come home and my kids say she isnt most likely. I am just kinda of confused and love my wife but the feeling of being in love is finally going away. Am I wrong tonspend time with another lady?
Sr
- 29-Dec-18 @ 10:22 PM