Coping With Christmas Without Your Partner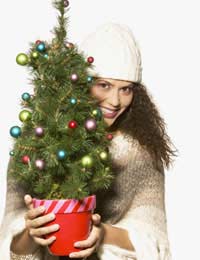 There's no doubt about it, a Christmas after separation or divorce can seem like a very lonely, depressing time. If you have kids, it can also be a difficult time, as they're wrenched from the family traditions and arranging their visits with your ex.
We're conditioned to believe the holiday season is a time for family and friends (not to mention parties, gift-giving and spending money). But it's worth remembering that, for all the fuss made about it, in essence the Christmas season is just a few days out of the year, and really no different from any others.
On Your Own
Unless you really want to be, the best advice is to make sure you don't spend Christmas alone. Visit family or friends (friends make a great alternative if you find the idea of a family Christmas without your ex a bit overpowering).
However, do make some time for your family, and at least enjoy part of the time with them, to exchange gifts and see relatives. You don't have to stay for an extended period, but it will make you feel part of the family circle.
That said, there are also some who use the time as a chance for total relaxation, snuggling indoors, away from the world, and that, too, can be very therapeutic. After a stressful year the chance to turn off can be very appealing.
If the idea of being alone seems awful and you really can't find anyone to share the season with, consider either taking a short holiday and putting yourself in completely fresh surroundings, pampered at a hotel, or possibly volunteering at a hospital or nursing home, where your time would be greatly appreciated, and you'll emerge with an entirely different perspective on the meaning of Christmas.
With Kids
The big problems occur when you have kids, and Christmas is definitely a time for kids. Inevitably you'll have established family traditions with your ex, and suddenly they're no longer applicable, which can leave the children feeling very lost.
Where possible, keep those traditions going, and create new ones that can last year after year. It helps bring everyone closer together, which is vitally important at this time. After all, they'll be feeling the loss.
Make sure you arrange access properly with you ex, and negotiate equitable time for you both with the children. Even if you're not on great terms with your ex, be fair and let the kids call them on Christmas Day itself, unless they're spending it there (in which case, you should hope to hear from them). If it's possible, work with your ex on joint Christmas presents for the kids. Not only will they feel you've both made an effort, there won't be a sense of competition for who can spend more, and you'll both save money, which, as we all know, is always tight in December.
If the kids are spending Christmas with your ex, make sure they don't end up feeling guilty about not seeing you. However bad you feel, not just about that, but everything, hide it from them and certainly don't take it out on them.
Above all, remember that however it's treated commercially, these are just a few more days in the year.
You might also like...