When to Start Dating Again After Separation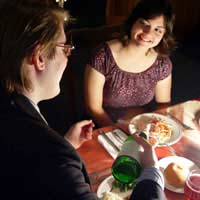 It's best to begin by saying that there are absolutely no hard and fast rules about when you should start dating again after your relationship ends. Some begin immediately (generally these are men), while others can take several years.
Basically, it's a question of what feels right. But there are some ideas that will help you know when the time is right, when you're really ready to brave the world of dating again.
Some Basics
It's probably best not to start dating before you're happy with yourself. Coming out of a long relationship is traumatic, no matter how amicably it ends. It takes time for you to come to terms with that. If you try to date too early, the people you see will keep reminding you of you ex, which doesn't do them – or you – any favours.
You should be at a stage where you're happy to be alone. Many who return to dating quickly do so purely because being on their own scares them. Once you're happy by yourself you can begin to make the right choices in whom to date.
Have your life in order, not a mess. Do you have a job, a clean place to live, interests that take you outside yourself and a circle of friends? That's a strong indication that you're at a stage where you can move ahead.
Feel good about yourself. You're a person of real worth, with plenty to offer, able to have fun and be good company. If you feel that way, with good self-esteem, then you're well on the road. If someone doesn't want to date you, then you won't believe the failing is yours, but instead realise that it's their loss, or that you just weren't right, anyway. It's vital that you don't take every rejection personally.
Timing
Some people believe that it can take up to two years to get over a long, deep relationship, and as a general rule of thumb that seems fairly accurate. However, it doesn't mean you have to wait that long before you do go on a date.
Think about what you want from dating, and what kind of a person you want to date. The chances are the latter will be someone very different from your ex, but maybe not – after all, they had qualities that attracted you in the first place. As to what to expect from a date, don't anticipate a full-blown relationship. Not only do those not happen overnight (at least in most cases), but you need to get back into the dating waters and learn to swim again first.
Things are harder if you have kids, and many of those coming out of relationships do. You have less time to date, and the children always have to come first. It should go without saying that you don't bring a date home to your children until you've been out several times and have decided to start a relationship. But when you're going out on a date, tell you kids, but assure them it's casual and like a friendship. Be aware of how your kids will look at things and respect that.
You might also like...
Hi, I'm joining this forum for the first time. I've been separated for 4 months and felt compelled to find out how others cope. My marriage has been rocky for about 4 years. We tried counselling and that has not helped us so as a last ditch we decided to separate. We have two small children and they are managing this situation very well. I have to say we are good parents but sadly not good for each other. My Ex is ambitious and is restless while i am more modest and evaluate risk before committing. This has been interpreted as me being a "glass half empty" type of person, despite me providing significant support, fun and benefit. In recent years decisions have been made which i have not wholly agreed with but went along regardless. Initially the outcome did not work out favourably which caused a great deal of stress. Fortunately, however, we managed to dig ourselves out of a difficult situation but the experience changed our relationship and the last 12 months have been a rollercoaster. My Ex recently started a new business, which has been more challenging than anticipated. For me the continual change left me insecure about our lives and relationship. I couldn't keep up and the demands of support left me lost, i had no head space to be me. I have now lived on my own for 4 months. Initially it was great. I had a chance to put my house in some order. I keep myself in shape with the right diet and i exercise. I have good friends but am conscious they have their own lives so don't try to encroach too much. However its now christmas and it feels lonely. Sorry if i'm going on a bit, but i was curious to know if anyone is or has experienced anything like this and how they managed.
Hector
- 26-Dec-18 @ 11:26 AM
Makes sense to wait until your ready to date, because if you take all your guilt, feelings extra into the next relationship it's not going to be fair on the other person you are trying to connect with! Take some time out for yourself, find out who you are and what you want out of life then go from there! Me my wife left with my three boys I see them. When I want and that's most of the time and I have no idea if and when I'll ever be ready to date again!
Danny326
- 25-Jan-17 @ 5:58 AM