Being in a New Relationship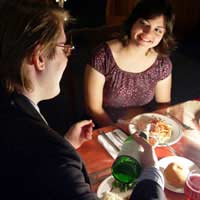 When you first start dating again, it should be fun and light, enjoying the company of other people, but without too many expectations. It helps you become used to the idea of going out with someone, you have a good time, and there are few strings attached.
Eventually, though, you'll find someone with whom you want a bit more than that. Instead, you start thinking of a relationship. But after not having had one for a while, how do you approach it?
What Not To Do
The first simple rule is not to read too much into it. Remember, the vast majority of relationships don't end up in love and marriage (or its equivalent). To make the assumption that everything will progress happily all the way to the altar and beyond does neither you nor the other person any favours; the chances are you'll end up disappointed – and heartbroken for no real reason.
Don't spend all your time with the other person. He or she has a life and so do you. To cast those aside just to be together becomes self-destructive. By all means talk and text daily, but you don't need – or want – to be in each other's pockets immediately. If things do work out, there's ample time for that later.
Don't assume the dynamics of this relationship will be like your last one and try to recreate that. Everyone is different – even you won't be quite the same person you were. Don't try and mould the other person into something they're not; after all, you like them for who they are, and that's the reason you wanted to be with them in the first place.
Don't pursue too strongly. Let things progress at their own pace, rather than forcing them. Never assume the other person wants the same as you, and it's probably not a good idea to even talk about your hopes for the relationship until it becomes well established.
Be aware that the relationship might not last. After all, the majority do end quickly, so don't pin your hopes on it. Simply enjoy the other person and the relationship. If you feel things aren't working as you'd hoped, don't be afraid to end things – it's often better to have no relationship that one that's not right. Be honest when you tell the other person, but be thoughtful, too. Learn your lessons from what didn't work, so you'll be more aware the next time.
What You Should Do
Treat the other person with thought and consideration at all times. Make sure you each maintain your space, but things like quick phone calls or texts can make someone else smile.
Do things you both want to do on dates. If the other person hates football, for instance, don't drag them to a match regularly, even if you enjoy going. Once might be fine, but in return, be prepared to do something you don't enjoy if the other person likes it. Fair's far, after all! All relationships require compromise.
When you're together, focus on the other person. Don't allow yourself to be distracted by work or other things. You may have become used to living your own life, but make room in it for someone else.
Do special things, like a weekend break away together. Apart from being a treat, it takes you both far from your normal routines and can bring you closer.
If either of you have children, don't introduce them into the equation immediately. Take the time to know each other first. The children are important, but be sure the relationship isn't a short-term fling before they enter into things. Otherwise they'll only become confused when it ends, especially if they like the other person.
If things do progress, sit down and talk honestly about what you each want for the future and a relationship. Don't say something simply because you believe it's what the other person wants to hear, that's a recipe for long-term disaster. More than anything, though, simply enjoy your time together.
You might also like...