Parenting Alone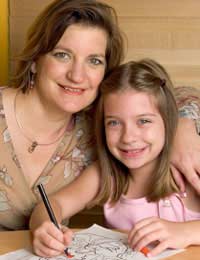 For parents, separation and divorce can be an extremely difficult time. One of them - usually but not always the woman - becomes a single parent, primarily responsible for the kids, which can be a 24-hour job in itself.
In many instances the former partner will be involved with the children, but that time will be limited and the task of parenting alone falls squarely on the shoulders of one party.
Balancing The Demands
Trying to find a balance between the demands of family and work can be extremely stressful, especially if the children are small and you have to use child care. Not only do you have to adjust to your new role as a single parent, and make sure you give ample time and attention to your children, they need to make adjustments too, to a new situation.
Encourage your children to think of the new situation as normal, and given the divorce rates these days, as well as the number of single parents, it is. They'll know many others in the same circumstances.
Try to adjust your work hours so you can have a stable family life at home. It helps create a routine, something that's good for children.
You don't need to go into the details of your separation with the kids, but do tell them it's happening and why. Assure that that both you and your partner love them (it's easy for children to assume they're the cause of a split).
Money
Money can be tight enough with two incomes coming into a house. When there's just one it can be incredibly stressful, even when the ex-partner contributes child support (and, sadly, many don't). Child benefits help a little, but they can't fill the gap.
For many, it means a lowering of the lifestyle. You need to become good at budgeting and finding bargains. It can be difficult, and you feel under constant pressure. But it is manageable.
Support
As a single parent, you need to build a support network to help when the kids are ill and you just can't take another day off work. Family is important for this, but you'll find that many other single parents will be willing to help out when necessary (and, of course, you'll do the same for them).
Your former partner might well also be a rock when it comes to the kids, so don't be afraid to ask. After all, the children will have two homes, and half the responsibility for them belongs to the other person.
Time To Yourself
When you're a single parent, having time to yourself becomes a luxury, one you can rarely afford. But don't ignore it. You need some down time when you can simply be you, not mum or dad or co-worker.
Don't be afraid to ask others to babysit at times. It's not a failing on your part to need time for yourself, whether it's to go out on a date, to a film or concert, or simply to have a lazy evening in a hot bath.
When you do begin dating again, don't be in any rush to introduce the new person to your children. Wait until the relationship is established. That other person should also understand that, whatever happens, the children will always have to come first with you. But remember, you do also need to move on with your life. In time the kids will grow and leave home. Many single parents put off their own lives until then, and while that's admirable, it's not a good move. Life needs to be lived now as well as in the future.
You might also like...