Relationships With Your Ex-Partner's Family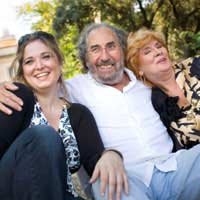 You might think that when you split with a partner, you have to cut yourself off completely from his or her friends and family. But why does that have to be the case? There's certainly no hard and fast rule that says it has to be that way, especially with an ex's family.
To be fair, it might not be easy to maintain a friendship with those who are related to your former partner. But, as many people have proved in the past, it can be done.
Who Are Your Friends?
Obviously, when a couple splits up, many friends will fall in one camp or the other. That's particularly true for family, who will usually tend to take the side of the family member over the partner.
But what if, says, your ex-partner's sister or nephew happens to be your best friend, and has been for many years, long before you met that ex? Should you sacrifice that friendship because of the relationship?
That comes down to both parties involved. In some cases blood will prove to be thicker than water, but certainly not every time. Those long-enduring friendships can prove to last through almost anything, especially if your ex has been a rat.
You shouldn't expect to remain friends with all your ex's family. That's simply not going to happen. But you can realistically expect to retain some of them as friends. Some won't have liked your ex, anyway (that's simply the way of families!), and will choose to take your side. Others will want to be fair, and some you'll have already known. It's much the same way people in your own family will regard you ex (so you'd better be prepared for that!).
With Kids
If you and your ex have kids, then the situation becomes rather different. If you're the female, and the children live with you, then your ex's family will want to remain friendly, as you exercise a large degree of power over them being able to see the kids.
Unless things have become very poisoned for some reason, you'll want to maintain reasonable relations with your ex's family. It's better for your kids that they have access to the full range of their relations, and it's worth remembering that the problem you will have had – certainly for the most part – will be with your ex, not his or her family.
At the same time, that doesn't mean you have to live in their pockets, or act with a false friendliness you don't feel (even before the split you won't have like all you ex's relatives, and that's unlikely to improve following a break up). However, that doesn't stop you being polite, and where there is genuine warmth displayed to you, give it back. Just because you and your ex are no longer together doesn't mean the kids should feel any tension.
You might even consider letting the kids stay with your ex's parents, for example, or with cousins. It's something everyone will appreciate, and it will also give you a little free time (which as a single parent can be a lovely bonus).
Overall, never assume that when you lose a partner to a split, you'll lose their family, too. There's a good chance that you'll retain some of those relatives as friends.
You might also like...