Explaining Separation to Your Child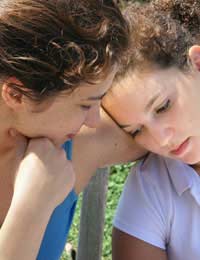 Explaining separation to your child is never going to be an easy task. You are already going through a very emotional time and having to break it to your child will leave you feeling guilty and upset. However, children are resilient creatures and the more open and honest you are with them, the easier it will be for them to adjust to their new reality. Keep it simple and work together with your partner to put your child's priorities first.
Explain Together
If possible, you and your partner should both be there when you explain the separation to your child. This way neither of you are burdened with the task alone and your child will feel reassured that you are both there together. Talk about what you are going to say beforehand and do not let any anger or conflict creep in to the situation.
Reassure Them
Your child will feel confused about why you are separating and it is important that you reassure them. It is natural for them to blame themselves or question what they could do to get you back together. Make sure they know that you both still love them and will be in their life. Explain that it is not their fault and that nothing they can do will make you change your mind.
Keep It Simple
While your child needs to know that you are separating, they don't need to know all the details. Explaining about lawyers, divorce and custody will only confuse them further. Tell them what they need to know to understand the situation and shield them from all the difficult decisions.
Be Honest – But Not Too Honest
It is important that you are honest with your child about the situation so that they understand what is happening. However, there is no need to be too honest with them. Your child does not need to know about your partner's infidelity or the arguments that led to the separation. You should always maintain a positive image of their other parent and do your best to hide any bad feelings toward them.
Maintain 'Normal Life'
Having their parents separate is already a big enough shake up for your child that you want to keep everything else as normal as possible. Try to maintain a routine that they are used to. Going to school, seeing their friends and taking part in their regular activities will help them feel that life hasn't changed too much.
When you are explaining separation to your child you need to keep it as simple and positive as possible. Tell them what is happening, together if possible, and reassure them that it is not their fault. Spare them the details, especially anything negative about your partner, and try to keep life as normal as possible. This is never going to be an easy thing to do but if you handle it well then your child will be more likely to bounce back and get used to their parents being separated.
You might also like...